News:
ARCSJI Publishes Latest Issue of "Juche Africa" Its Journal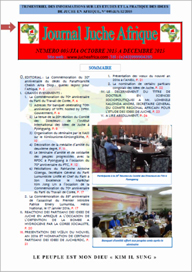 The African Regional Committee for the Study of the Juche Idea (ARCSJI) has published the latest issue No.5 of the "Juche Africa," its journal.
This issue made up a special issue to commemorate the 70th anniversary of the founding of the Workers' Party of Korea in October 2015. It included the introduction of some events like a course on Kimilsung-Kimjongilism held in Pyongyang where some office-bearers of the ARCSJI took part on their visit to the DPRK.
Similarly, it was introduced in the editorial of the issue that some African Juche idea researchers commemorated together both the 70th founding anniversary of the WPK and the 55th anniversary of the assassination of Patrice Emery Lumumba of the Democratic Republic of the Congo. It referred to its significance as follows: "It is simply necessary to inform all African patriots who are taking the path of dignity, progress and independence and to have their ideology that makes it possible to define its struggle.
"Africans must know that they are subjects, not objects of history; and thanks to such awareness of them, their genius and their determination to assume sovereignty, they can meet the challenges of development of their continent.
"This vision has clearly been formulated in the Juche idea, and the idea that Patrice Emery Lumumba called 'Uhuru,' that is to say, the idea of freedom.
"We of the editors of the 'Juche Africa' ask our readers to read many bright messages of the Juche idea, a new design for the humanization of society and the socialization of men and women."