News:
To Celebrate Birth Anniversary of First Secretary Kim Jong Un,
"New Year Seminar on Juche Idea," and
"New Year Evening for Arts and Exchanges" Held in Okinawa
At the beginning of the New Year 2016, a New Year Seminar on Juche Idea and a New Year Evening for Arts and Exchanges were held in Naha, Okinawa to celebrate the birth anniversary of First Secretary Kim Jong Un.
Those gatherings were joined by many people in various walks of life including scholars, union activists, health care workers and students from Okinawa and all over Japan.
New Year Seminar on Juche Idea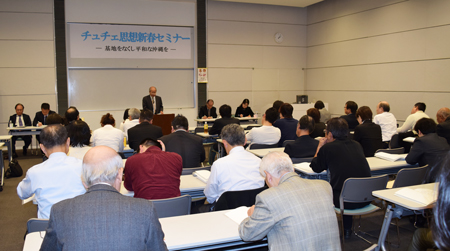 A "New Year Seminar on Juche Idea on the Subject of Peaceful Okinawa free of US Base" was held at Okinawa Prefectural Museum & Art Museum on January 10, 2016 under the auspices of the National Liaison Council for the Study of Kimilsung-Kimjongilism and the Okinawan Association for Friendship with the DPRK.
Mr. Nakazato Osamu, former chairman of the Marin Branch, the Okinawa District of the All Japan Garrison Forces Labor Union, who was one of two chairpersons of the seminar, said that Okinawa has been in a very tense situation over the problem of the construction of a new US base in Henoko; under such circumstances the Okinawans have yet continued to wage their struggle for peace against war; in this context, it is of great significance to hold the New Year seminar on the Juche idea.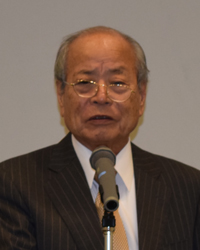 On behalf of the organizers Prof. Emeritus Sakugawa Seiichi made an address as follows: The history of Okinawa is that of heteronomous rule by the successive administrations of Japan and the United States in which peoples' demands have been ignored. The Okinawans, with an awareness of how to free themselves of the heavy pressure of the US bases there, had been looking for a guideline for their movements.
Then he mentioned how he came across the Juche idea in the end of 1970s when he taught at a university as Japanese constitutional scholar fighting for peace and human rights.
Prof. Sakugawa continued: he felt convinced that the Juche idea would be a weapon of our struggle as he came to know it teaches that man is the master of his own destiny and has ability to carve it out, and since then, he has devoted himself to the promotion of the study and dissemination of this idea.
He hoped the Juche idea would be studied and disseminated among the broad masses of the people including the youngsters, stressing that it is necessary to gather strength of the broad masses of the people in realizing independence and peace of Japan as well as Okinawa.
In the seminar, a message from Dr. Ogami Ken-ichi, secretary general of the IIJI, in his support of a hydrogen bomb test by the DPRK was introduced in replace of his making a direct speech on the platform. The followings are some excerpts.
"Under the circumstances that US imperialism has refused completely any dialogue and cooperation with the DPRK in its attempt to frustrate socialist Korea while looking for a chance to make a nuclear attack on it, it is indispensable for the DPRK to possess nuclear arms to safeguard its national right to existence and its sovereignty and promote its peaceful economic construction.
"While monopolizing nuclear arms, imperialism is making an attempt to disturb some smaller nations' possession of nuclear forces for their peace and prosperity, imposing sanctions on them. It is an extremely unfair and unjustified action.
"Japan under the nuclear umbrella of American imperialism is making a fuss about the country that has come to possess nuclear weapons for its self-defense, without opposing those possessed by American Imperialism. This is an exposure of the nature of the Japanese administration that is subordinate to the US, and it is also no more than an exposure of its ambition for foreign invasion.".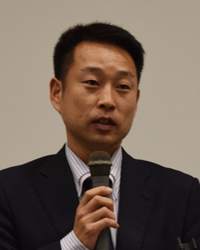 In the seminar Mr. Kim Yong Jun, section chief of the International and Reunification Bureau of the Central Headquarters of the General Association of Korean Residents in Japan gave a lecture entitled "New Year Address for 2016 by First Secretary Kim Jong Un―DPRK Ushering in Golden Age in Building Thriving Nation."
He said: In his speech in April 2012, First Secretary Kim Jong Un proposed a vision of building a thriving nation by saying that it is a firm determination of our Party to ensure that our people do not have to tighten their belts again, but enjoy all the benefits of socialism.
Regarding it as necessary to build up firmly peaceful environment and security arrangements for the realization of that vision, First Secretary Kim Jong Un put forward a new strategic line of simultaneously carrying on the economic construction and building up of the nuclear forces. Its idea is that in order to cope with the threat of the US' nuclear weapons the DPRK strengthens its nuclear forces and fortifies its national defense capability like an impregnable fortress, and then putting more emphasis on its economic construction.
The DPRK proved the correctness of the new simultaneous line in its defense and economic fields, and with achievements as such in the promotion of its national strength it commemorated the 70th anniversary of the founding of the Workers' Party of Korea.
In his New Year Address for 2016, the First Secretary proposed a slogan of "Let us usher in a golden age in building a thriving nation this year when the Seventh Congress of the Workers' Party of Korea is to be held!" and thus the DPRK is on its way to the final victory.
Prof. Emeritus Taira Ken-ichi delivered his presentation entitled "Henoko in Okinawa Witnessing Struggles for Universal Rights and Independence."
He said: The Okinawans' struggle to obstruct the construction of a new US' base in Henoko is facing a difficult situation in that the government's persistent and firm attitude has not been changed and they are trying to settle this problem by going to law.
Notwithstanding, the Okinawans' struggle is that of today for human's universal rights, a struggle for attaining human dignity and independence.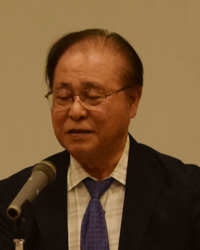 Prof. Taira referred to the formation of the Japan-US security arrangements, and the structural outline of the Japanese government's subordination to the US and the former's humiliation to the latter after World War II. He stressed: Henoko is a focal point in such a sense that it has a complicated historic problem or contradiction, and at the same time it is the starting point to cultivate a sense of community where people are working together, learning from each other and growing together. So, in this context, the Okinawans' struggle to obstruct building a new US base is a struggle for human's universal rights and independence with universal significance.
Also in the seminar, a university student spoke: I believe that it is important for us to live such a life as shaping our own destiny by ourselves, neither being subjected to others nor flattering others. As a person from Okinawa or a Japanese person, in order to make Okinawa and the rest of our nation a better place to live in, I would like to study the Juche idea and fight together with you all here.
With a call by the other cheirperson of the seminar that let us fight together to build an independent and peaceful Japan while keeping in our minds what had been learned there on that day, the seminar was closed.
New Year Evening for Arts and Exchanges
A "New Year Evening for Arts and Exchanges" was held on the evening of the same day at a Daiwa Roynet Hotel in Naha.
It was opened up by an address of Former Chairman Oshiro Hayashi of the Zukeran Branch of the Okinawa District of the All Japan Garrison Forces Labor Union, followed by a toast proposed by Prof. Emeritus Nakamura Houshin at Okinawa University.
In the "Evening" Ms. Tajima Michiko who has her own dancing institute called "Michi Dancing Institute," a section of the Yaeyama Traditional Dances "Kinno-ryu Toki-no-Kai," performed some dances.
She together with other performers danced some programs from the Yaeyama Traditional Dances such as Kumoubushi, Bashinutoribushi and Sakiedabushi that represent the richness in the way of living of inhabitants and their joy for a bumper crop.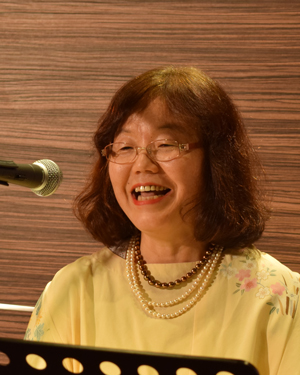 Ms. Ikebe Yukie, chairperson of the Japan-DPRK Association for Exchange of Music and Arts, sang to her own piano accompaniments.
She sang a song entitled "A Hymn to Pyongyang" whose lyrics and music by Ms. Ogasawara Mitsuko who is chairperson emeritus of the same association, then "Larches in my hometown," a song sung in a Korean film entitled "We Live Single-heartedly along With This Path" that depicts the Korean people's struggle in the period of "arduous march" in the 1990s. She also sang a song entitled "Let's go to Mt. Paektu!" that was released in 2015, now well-sung among the Korean people.
She also sang a song entitled "For Carrying Happiness" that was written in Kobe in 1995 when Hanshin and Awaji Earthquake occurred and sung by people still now, and a lullaby entitled "Warabi-gami" originated in Okinawa, well-sung and popular among the Okinawans; and some others.
Likely, the "Evening" went well and closed by an address of Chairman Kyan Satoru of the Okinawa Bus Labor Union.
*  *  *
Both the "New Year Seminar on the Juche Idea" and the "New Year Evening for Arts and Exchanges" contributed to the promotion of the friendship between Japan and the DPRK and making Japan independent and peaceful.