Dr. Vishwanath, director-general emeritus, the Board of Directors of the International Institute of the Juche Idea (IIJI), untimely passed away seven years ago, on February 11, 2014.
His passion for the study and dissemination of the Juche idea is still alive in our hearts.
Introduced here is a writing-up contributed by Prof. Suresh P. Pathak, director, the Board of Directors of the Asian Regional Institute of the Juche Idea (ARIJI), in the memory of Dr. Vishwanath, director-general emeritus of the IIJI Board.
Dr. Vishwanath—Juche Personified Prof. (Dr.) Suresh. P. Pathak Director of the ARIJI Board, President, Indian Society for Study of Kimilsungism-Kimjongilism
A shudder runs through my spine when I realize that I am to do a Herculean task- write about a man whose life was so simple outwardly but in truth most adventurous and dotted with incredible and breathtaking events. Dr. Vishwanath was such a person. Born in a Brahmin family in a small hamlet of Punjab, he reached dizzy heights in his own inimitable way. Though his name would not find any mention in history books which talk of the leaders at the top, but he happens to be a leader at the second rung who really matter and whose contributions in reality make a country vibrant and strong. Such leaders are to be found doing their intrinsic role almost in obscurity but in reality contributing to the strength and growth of a nation. Our Vishwanathji was such a soul who in his own small way contributed to the country in a very different way.
Here in the small space at my disposal I shall be able to mention only some of his feats but for the information of those who are interested to know about him in detail, I would advise them to refer to a book "Train of Life" authored by In Hun and translated into English by Han Chan Do (2014), Pyongyang, the DPRK.
Dr. Vishwanath in his youth came away from his home to Delhi to carve out his own career and "shape his own destiny". This was a blind jump into the fray without any succor but he had full faith in himself and in his fighting capacity. Like any other young man who takes such a blind leap he had to face many difficulties-he did not have any permanent roof over his head and had little money to make both ends meet but he had an endless or bottomless treasure of determination and belief in his own self. Per chance he came across Soviet diplomats and he had the chance to publish Soviet Land.
Single-handed he took up the work, he edited it, did its proofreading and printed it. His sincerity and hard work earned rich dividends and from here he never looked back. He was also a powerful writer and his articles earned him laurels. In due time he got introduced to Korean affairs and he was so deeply and sincerely touched and impressed by the heroic fight waged by H. E. Kim Il Sung against the Japanese and then against all powerful USA that he became his fan. The more he read about him the more fascinated he became. He could hardly believe that there could be a man of flesh and blood who could do such incredible deeds. He therefore published his spontaneous but unalloyed views in Indian Press and intellectuals and thinkers in India were amazed to read about the incredible feats of a leader of a small country against the mighty powers like Japan and then USA. It was virtually a repetition of the fight of David against Goliath. But the south Koreans were very much upset by this and they tried to buy this unsung, unnoticed academic whose spontaneous but powerful outburst was making round in India as well as abroad. They tried to grease his palm but this great Juche soldier was not a commodity to be purchased and the South Korean Embassy officials in India had to eat a humble pie. Such was the character and personality of our Dear Dr. Vishwanath.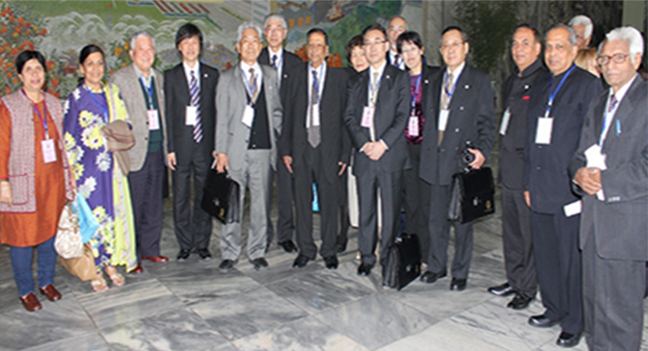 He had several opportunities to meet with the Eternal President Kim Il Sung and pay his humble but sincere respect to him. In one of his articles he gave the Great Leader Kim Il Sung the title of "SUN". The epithet was so powerful and appropriate that intellectuals and writers as well as Juche soldiers all over the world used it frequently to describe the intrinsic qualities of the Great Leader. This small instance speaks in volumes about the intellectual caliber of our Dr. Vishwanath. In fact Dr. Vishwanath was so much impressed by the great achievements of the Eternal President and his Juche Philosophy that he once remarked that India was his homeland whereas the DPRK was his fatherland.
Actually he himself was Juche personified, he lived Juche and was himself an embodiment of Juche in his words and action. He believed that the world would turn into a paradise if Juche was practiced by everyone because it granted independence to every individual irrespective of his caste, creed, sex, or nationality and this freedom to individual as well as to nation was the key to world peace. He was actively involved in the propagation and dissemination of this ideology all over the world. As the Director General of the International Institute of the Juche Idea he spread this message almost in every part of the world.
We believe that the torch would burn brighter while in the keeping of his successors and under the great guidance and benevolent leadership of our youthful leader Marshal Kim Jong Un and we shall be able to attain the dream of the eternal President Kim Il Sung, and General Secretary Kim Jong Il the propagator of Songun Politics--an extension of the Juche idea--and thus in its wake also the efforts made by Dr. Vishwanath.