African Regional Seminar on Juche Idea Held
in Republic of South Africa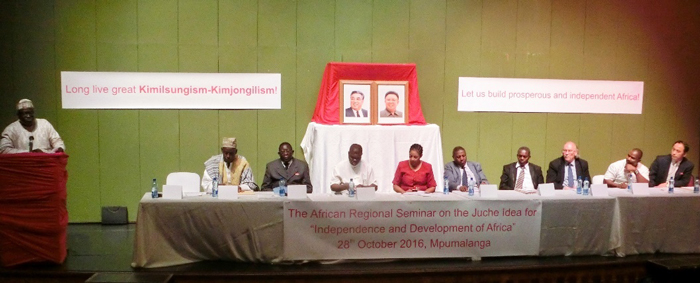 Present at the seminar on the subject of "Independence and Development of Africa" were Juche idea researchers from individual countries of Africa along with the delegation from the Korean Association of Social Scientists (KASS) along with some members from Japanese Juche Idea Study Groups.
Speeches were made by delegates from South Africa, Uganda, the DR of the Congo, Tanzania, Nigeria and Guinea in view of the current conditions of the region and its challenges, as well as the forward prospects.
In his speech in reference to the African situation in such way as Africa has become like a possession of the imperialist powers in spite of its never-ending earth, Director General Henry Masiko of the African Regional Committee for the Study of the Juche Idea (ARCSJI), who is also commissioner, the National Secretariat for Patriotism Clubs of the President's Office of Uganda stressed that it is important to awaken Africa once again with an ideology that enables the African people to obtain dignity and the right of self-determination.
In their speeches, saying that the African nations are still like under colonial rule in spite of their respectively achieving independence, those delegates referred to the domination and aggression of the imperialists and political corruption in their own countries.
Further they said that it would not be possible to achieve liberty in a true sense with external aides, appealing that the African people should develop their own countries with their own efforts, while getting hold of the future of their own countries and the destiny of their own people.
The participants in the seminar adopted a letter to WPK Chairman Kim Jong Un, in which they said that through the seminar they had recognized the necessity of making a deeper study of the Juche idea, the ideology of independence to achieve the independence and development of Africa and that they were determined to fulfill their responsibility and duties for carrying out their work as such among the people in various walks of life.
***********************
ARCSJI Board Meeting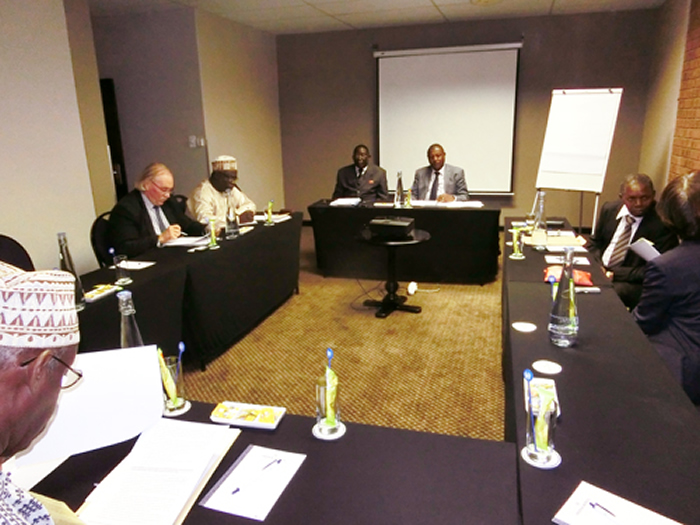 Preceding the African regional seminar, the 10th Board meeting of the ARCSJI was held at Protea Hotel, Mpumalanga on October 28, 2016.
Being presided over by Prof. Alhassan Mamman Muhammad who is on the Board, the Board meeting proposed a report on the work of the ARCSJI by Director General Henry Masiko, and its work plan by Secretary General Lohekele Kalonda Andre and discussed them.